InnGenius Software Updates / News Feed / System Status
https://www.inngeniuspms.com/wp-content/themes/corpus/images/empty/thumbnail.jpg
150
150
admin
admin
https://secure.gravatar.com/avatar/d44e89ac73b3cca5b6ef23cb46b95f0a?s=96&d=mm&r=g
03/20/2019
Restaurant POS functions added.
You can now customize your retail items with extra additions.  Below screenshot samples are for a Veggie Pizza topping, however same data fields can be used for any retail item and can be customized according to the customers needs. Please follow the steps to create customizable retail items.
Create a new product with custom topping groups. Min.Selection box enforces user to enter a minimum number of garnishes.
Toppings must be created with the sales price and a default quantity must be entered.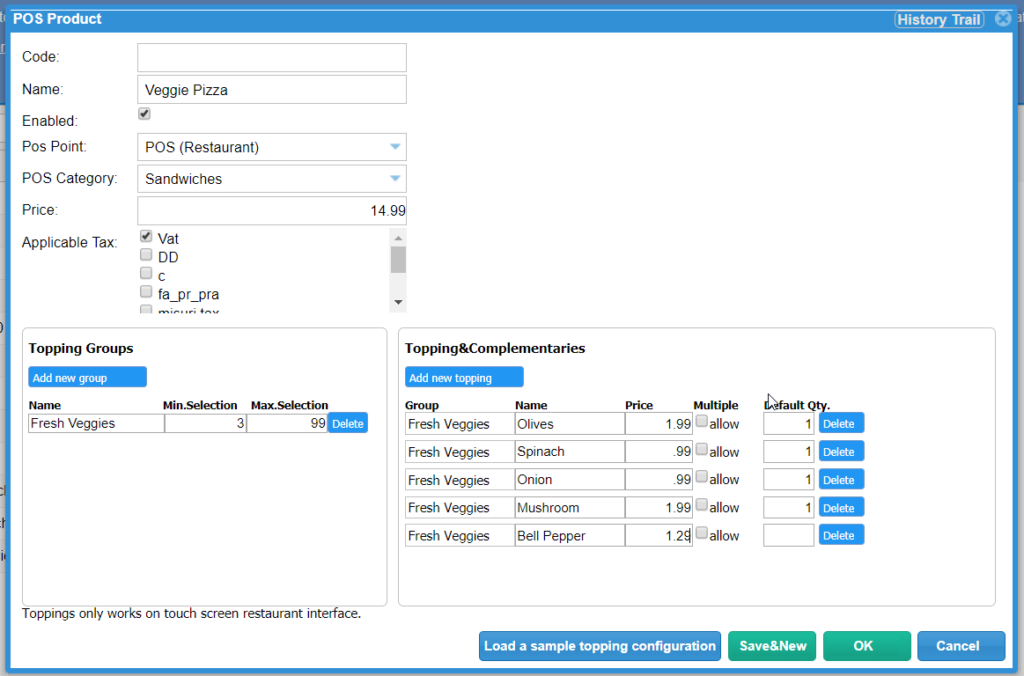 Below screen will be displayed while taking an order. This is the window where user must add the garnishments to the order. Green Accept button at the bottom of the window finalizes this order.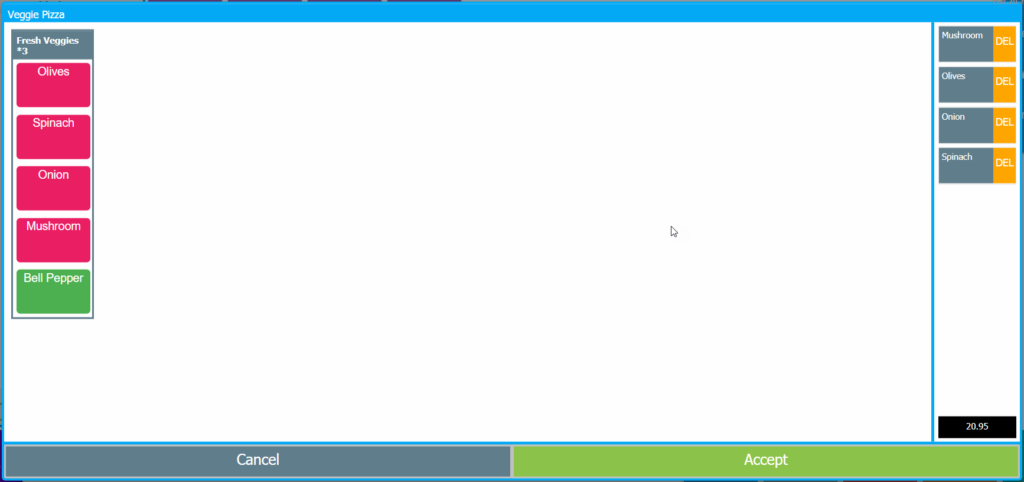 Final order screen shows all the extra toppings of the item ordered and the adjusted total due.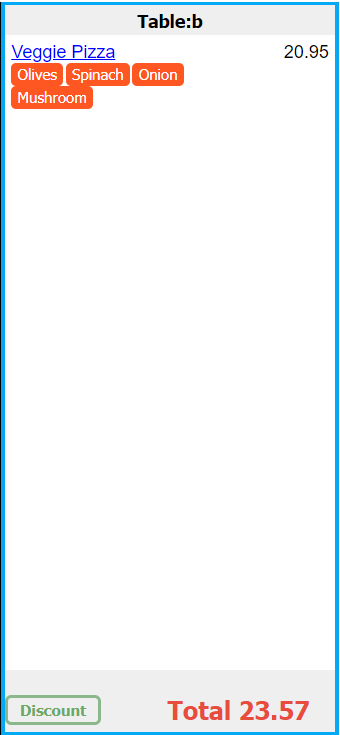 01/07/2019 
Hello, Our team would like to thank you for using InnGenius PMS. This month we're offering 100 customers a $10 gift card of their choice.The only requirement is for 2-3 minutes of your time. We ask that you write us a review on Capterra via the link below. Once your review is published, you will receive the gift card. Happy reviewing!
Warm regards,
01/03/2019  Click here to learn how to use coupon codes in InnConnect
01/03/2019
We are making some changes in our touch POS screen. POS screen can be accessed from mobile devices in order to take guests' order at their table. This function will eliminate the traditional ticket writing process at the restaurant guests' table.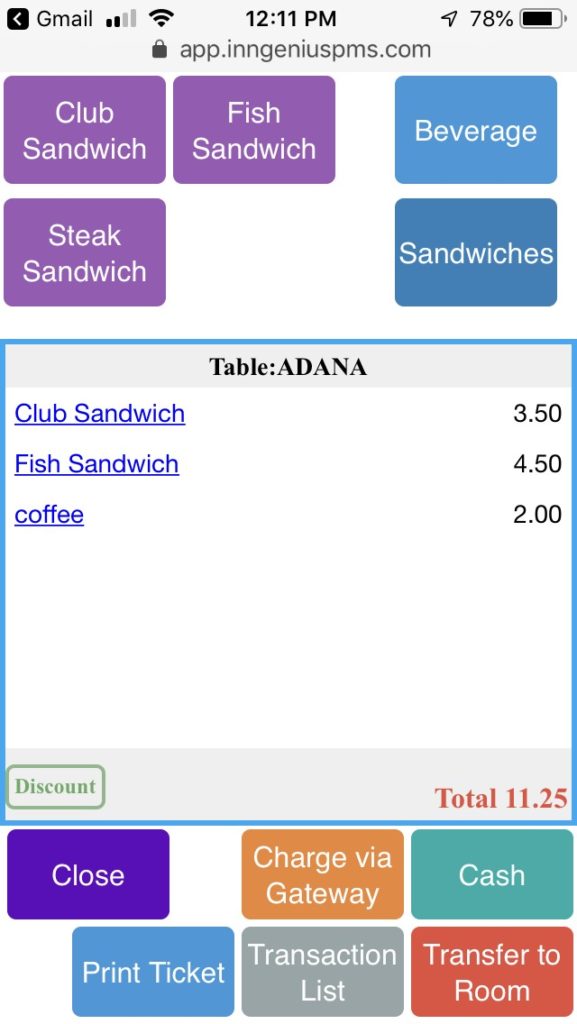 This function is now in Beta phase. If you have any questions or issues please email us at [email protected]
12/14/2018
We are running some updates throughout the system in order to increase system security and prepare InnGenius for new developments. During these updates you may run into an error screen. If this happens simply use CTRL + F5 buttons to refresh your screen. In rare instances this may not fix the error. If refreshing fails to fix your issue please email us at [email protected]
12/07/2018
We have upgraded our report servers. If you run into an error message please use CTRL +F5 to refresh your browser page. Please make sure you are still in the same window of the error message. 
10/27/2018
Booking.com has slowed down on 10/27/2018 10Pm EST.. Please keep an eye on your reservations coming from booking.com. If you receive a booking confirmation email from booking.com and you can't find the reservation in inngenius please manually enter them.
10/16/2018
System update completed. Please use CTRL + F5  key simultaneously to refresh your browser page to reload InnGenius.
10/16/2018
System Update is scheduled to run in less than 12 Hours. Please print out Check-in/Check-out and Night Audit lists right now in order to avoid interruptions during this update. These reports will show outstanding balances, arrivals and departures.
InnGenius will be inaccessible for about one hour.
    10/08/2018
Major System Update scheduled for 10/16/2018  Tuesday at 11PM EST
For Americas 11PM EST is 10pm CST and 8pm PST.
For Europe 4am CEST
For Eastern European Countries 5am CEST, Turkey 6am CEST
For Asian Countries UTC +9, UTC +8 and UTC +7
During this update InnGenius will become inaccessible, please print your check-in and check out list and night audit reports for processing your reservations manually.
Update will last about 1 hour.  
8/15/2018 Looks like booking.com had a small hiccup this morning. Please double check your bookings on both pms and booking.com , Thank you have a great day!
07/30/2018 InnGenius Update (Payment Gateway Card Pre authorization) Authorize.net Accounts Only
Properties with Authorize.net Payment Gateway are now able to pre authorize credit cards
for all reservations. (Channel reservations, Phone reservations, walk-ins etc.)
In order to use this function please go to Admin—>Settings—>Payment Gateway Settings and put a check mark to enable pre-authorization.
'
While in the payments screen simply click on Pre authorize Credit Card button to place a hold on guest's credit card.
11111111111111111111111111111111111111111114
22
When next window opens up you can either read the credit card details from reservation file or enter a new card detail on the right side. After filling out the information click Pre-authorize.
After a successful pre authorization is made credit card window will be closed and you will be returned back to payments screen, where you can see the pre authorized amount and the time that the hold is placed on the payment card. Within that time period you can capture the whole amount, a lesser amount or take partial payments to settle the balance.
You can also place additional pre authorization hold for incidentals or extra charges. Those will be listed in the same area as well. Screenshot below shows the list.
Please keep in mind that at this point guest's credit card hasn't been charged and balance is still due. It's hotel responsibility to setup a procedure to finalize these pre authorization holds in a timely manner. Best time of finalizing these transactions are during night audit or guest check-out.
Screenshot below shows the outstanding balance with partial other types of payments taken with pre authorization hold is still in place.
In this scenario  when you click on Capture button to finalize the sale you will be asked to confirm the amount to capture. At this point user must compare the amount to the current outstanding balance and make adjustments as necessary.
Screenshot below shows the adjustment screen to finalize the transaction.
After a successful transaction, pre authorization list will show the transaction as complete. Screenshot below shows the transaction.
Pre Authorization List
Pre authorization list allows properties to pre authorize multiple reservations at once.
Simply put a check mark on the reservations that you would like to pre authorize and click Pre-authorize button.
This will place a hold on every guest's credit card for 100% of the balance.
Screenshot below shows the pre authorization hold placed using preauthorization list.
Ignore the first two voided transactions.
If you have any questions regarding pre authorization process please email [email protected].
7/26/2018 EXPEDIA IS DOWN please check your reservations in Expedia and compare them to Inngenius. Some reservations may not be coming through. ALSO we have completed a room type search report on "charge by rate" report so you can now see the revenue per month by room type.
7/17/2018 Authorize.net is aware of their outage. This was posted 30 minutes ago, check them on this website for more information: https://status.authorize.net/incidents/386frw7z5syq
6/14/2018 EXPEDIA IS DOWN
Keep an eye on your reservations, thank you
6/7/2018 Expedia is having a little bit of issues again. We will contact them and try to get more information. Please keep an eye out on your reservations in Expedia for now.
5/28/2018
As of today Booking.com is processing reservations without downtime.
Please keep an eye at our news feed for possible issues to avoid overbooking.
5/25/2018 MAJOR OUTAGE WITH BOOKING.COM
We have over 50 reservations missed with booking.com down. Please CHECK your reservations with booking.com, send a block to booking.com to avoid over-bookings.
They are having a MAJOR shut down, NOT to be taken lightly. This requires IMMEDIATE attention on your behalf to monitor reservations not coming in from booking.com and/or send a block to them.  
5/25/2018
Booking.com is experiencing an issue with their service today. As of 12:40 CEST reservation messages are being returned empty and also fallbacks to properties doesn't include any information.
They put up a reservation hold as of 14:26 CEST in order to prevent reservations to fall back to emails. Reservations made may be retrieved by inngenius few hours later.
We  continue to request reservations as usual, We will be receiving the reservations again as soon as the issue on Booking.com side is fixed.
More information will follow via this news feed at a later stage once they have analyzed the full scope.
Best wishes,
In order to prevent overbookings, please use Block function to create reservations in inngenius.
—
Booking.com Connectivity Team
Booking.com B.V.
Rembrandtplein 29-45 Amsterdam 1017CT Netherlands
Phone +31207242630
5/16/2018 Booking.com had another hiccup again, I wrote them and asked them if they had an explanation. I am still waiting on an answer from them. Please keep an eye on your reservations with them. Thank you
5/12/2018
Looks like Booking.com had a small hiccup this morning. Please double check your reservations on booking.com and cross reference them with Inngenius, thank you and I hope everyone has a happy Mother's day tomorrow
3/20/2018
Expedia is down since yesterday and has an emergency outage that is still going on.  Please check any reservations that may be in Expedia that might have not transferred to the pms. We will not be responsible for any over bookings as we have no control over Expedia's outage Thank you
3/13/2018
Agoda went down last night. Please check any reservations in your Agoda account that may have not come in, Thank you
3/10/2018
We are introducing a brand new affiliate program. Over the years we have received several requests for an affiliate program from our customers. We couldn't ignore such an important request anymore.
For more information on our Affiliate Program please click on Partner Program on your frontdesk screen.
ATTENTION!!!
2/3/2018  EXPEDIA IS SLOWING DOWN AGAIN. KEEP AN EYE ON YOUR RESERVATIONS FROM EXPEDIA, THANK YOU!!
1/5/2018
12/21/2017 Make Christmas Special deals on your Innconnect account, or any other holiday specials… here is how! https://youtu.be/1UvAq77Yl_M
-12/13/2017- Get those Last minute reservations in on Booking.com! Here is how…
11/22/2017 Office will be closed till Monday 11/27/2017 for Thanksgiving. Please refer to email and chat for support during holidays, thank you and have a great Thanksgiving!
 We have a training video for the flags on your reservations! How to use them, and why to use them.. Here is the link for the training video: https://youtu.be/PghwbAi0yLY
10/26/2017 NEW UPDATES:
10/20/2017 Anyone who is connected to Hotelbeds through us needs to read this warning: We just received notification that they are doing an update 10/21/2017 and will be down from 11 CEST to 1am CEST. Thank you for taking note of this and keep an eye on that if you are connected to them 🙂
10/16/2017 Halloween is around the corner! Here is a link with some games and ideas you can throw in for hotel activities! https://www.thebalance.com/halloween-party-games-for-all-ages-1357659
10/14/2017 Expedia slowed down on 10/14 from 2am to 4 am. Just double check those on Expedia, make sure everything is great. Hope you are having an awesome weekend!
10/2/2017 Permanent notes for customers have been added! Please see attachment:
9/28/2017 NEW FOR HOTELIERS: A hotel directory for smart phones, using D.I.G cards with NFC tag app that allows customers to pull up all the attractions, amenities of your hotel, restaurants, etc nearby. For more information, please visit the Easy Hotel directories blog : http://easyhoteldirectories.blog/
        To sign up please visit this website: https://easyhoteldirectories.com/
-9/27/2017 Halloween is around the corner, and to boost your occupancy, you can offer a Halloween package with treat bags, face painting, halloween bingo, and some halloween crafts
-9/27/2017 Expedia has slowed down again. Everyone keep an eye out on their expedia account and make sure no reservations are missed.
-9/24/2017 Looks like Expedia slowed down again. Please check your expedia account and make sure there isn't any missed reservations. As usual, everything is working fine with booking.com.
9/8/2017 We have finally secured a place to live/work. Thank you everyone for all your prayers and patience. We will be able to work diligently again and give our support to all hotels. Now our prayers will be shifted to Florida, Montana, Oregon, Washington, California, Mexico, and every other place that seems to be getting hit by natural disasters right now. Thank you once again, it looks like it is going to be a tough year for all of us…
8/29/2017 I would like to say thank you to all the hotels that have shown support, it is really great to see so many people that care and offer help. We wanted to let everyone know we are ok, we are in a hotel between Conroe and Spring. We are one of the fortunate ones, as the parking lot full of people sleeping in their cars waiting for a room to open up. All hotels are full and tons of people have been displaced. We are going to try to make it home, as our home is now not so much in danger as the rest of Houston and we are going to see if we can stay there. If we can get in, we want to be able to take a moment to calm some nerves then go out and help as a lot of our friends are trapped. We will keep you updated.
8/28/2017 We ARE STILL IN HOUSTON, Houston is under water, we can't get out. We are stuck. We lost our house and office. PLEASE ALL HOTELS BE PATIENT as we only have limited internet and resources. Right now we are trapped between two flooded areas. Please understand that it may be awhile, maybe Friday by the time we will be able to have a place to work. Maybe longer. Please be patient as we can not do much right now. Support is just not very realistic right now especially if it is not an emergency, which our software is up and running correctly so it should not have any emergencies. If you would like to help, send us (Houston) prayers. Or water. Whatever suits you best – as Houston is out of all supplies and all stores are closed. It is not good at all.
8/27/2017 Inngenius office WAS located in Houston TX. Right now, our house, our office, cars, all have been affected. Please limit support to email and for emergencies for the next couple of days. Please send prayers or hopes for us. Thank you for your understanding. We will keep you updated
8/8/2017 Inngenius is running security updates required by PCI-DSS compliance requirements for the next 48 hours, please bear with us during these updates as they are necessary for everybody's safety and performance of the system. You might experience some temporary slowness off and on, you can print out date based reservation status report to help you during slow minutes. Thank you for your understanding and patience.
8/1/2017 Check out our new analytics page located on the left hand side of your pms
7/12/2017 Expedia is slowing down again. Keep an eye out for any missed reservations
6/2/2017 See this video on how to contact your booking.com rep and have them come out and take pictures of your property for FREE and also help you maximize your availability!   https://youtu.be/MQFMESyiewk
5/26/2016 WARNING: EXPEDIA IS DOWN, PLEASE KEEP AN EYE ON INCOMING RESERVATIONS IN EXPEDIA ONLY. THANK YOU!!!
5/26/2017 Expedia slowed down again! Check your reservations on expedia…
5/23/2017 Did you know booking.com will come out and take pictures of your property for free? Pictures are the most important feature when customers are looking for a hotel to book. Booking.com is there to help you improve your hotel revenue by providing you with professional pictures to add to your portfolio.  
5/14/2017 Happy Mothers day to all the wonderful mothers, mothers soon to be, and mothers of fur babies (pets) You are loved and cherished and deserve the best day ever!!!
4/26/2017 We made a new improvement that allows InnGenius to store ALL credit card information. Before, when scanning the credit card, it used to change the name. Now it will store all the correct information under credit card details. You can still add more cc info by adding add in the credit card box.
4/10/2017 Looks like Expedia slowed down again.. Please double check any reservations on Expedia that may have not come through, from yesterday till this morning. Looks like they fixed whatever issue they were having but I will keep you posted if they slow down again.
3/28/2017 Report bad credit cards and no shows to booking.com by clicking on payments, and hitting report invalid credit card. This will also allow you to report no shows, so you don't get charged commission, and will also automatically notify the guest to provide a second credit card that works            
3/23/2017 NEW: Derived rates from booking.com has been established..
This is a new feature offers occupancy fixed base pricing with booking.com. Anyone want to be the guinea pig? 😀 Throw us an email! [email protected]
3/8/2017 IMPORTANT: Last night Expedia's servers slowed down, we would like to notify all hotels connected to Expedia to cross check their reservations with Expedia and the pms and make sure there are no lost reservations. Thank you, have a great day!
2/4/2017 Message other users that are using the system video: https://youtu.be/NOExp2hHhxc
2/3/2017 Forecast report has been made, please access it by going into Admin, user levels, permissions, then checking the reports to be added to your system, and always remember to hit "ok" or "save" to save all the changes, and refresh to see the changes.
2/3/2017- Also, the minimum stay can now be changed without re-doing your rates WOOHOO! Rates will say "unchanged" for the fields that are left alone, will stay the same when adjusting other things in the rates. Have a great day everyone, and remember… Valentines day is coming!!! Put your specials out!! Once again, here is a video for doing this: https://youtu.be/DZQePlm-olM
2/2/2017 Increase your hotel occupancy: Set your booking engine in your innconnect to mobile devices, so customers can book their room on their phone.
Make sure your website is up to date and working. Have high quality photographs posted on both your website and booking engine (innconnect) and make sure they are recent. Hiring a webmaster would be worth the money and effort
Post your hotel (you can add innconnect link to these) to media like facebook, twitter, Youtube, Pinterest for Hotels, Instagram,Trip Advisor, etc..  Try to get as many likes on your facebook page. If a customer seems happy, you can offer them to "like" your page and you will return the favor to their business (if they have a business page) Use hashtags for your tweets and other social posts. For example #valentine'sday
Make sure you have all the attractions listed on your website and or booking engine, all your neat features, and maybe even some positive reviews on your website.
Respond to ALL reviews (good and bad) in a positive way. For example: If you get a bad review, respond, "thank you for your review. We are very sorry we didn't meet all your expectations and would like to make it up to you. Our main goal is that we want all of our customers to be extremely satisfied and happy. Please contact us so we can address the situation promptly, and thank you again."  This will show customers that you care about them, and are very understanding to their needs. Even a bad review can be a good review with a response like this.
Connect to channels like Booking.com and Expedia.
2/2/2017 Don't have a logo for your guest receipt and need help? Contact

[email protected]

, tell us your hotel name/ID number, and we will help you out!
1/26/2017- Booking.com is showing a slow response. Please keep an eye on your reservations from booking.com until they solve this matter. Thank you, have a great day.
12/19/2016 – We now have added a mandatory field for booking extra's on your booking engine. This means, that if you want to list something separately on your room type, and have it be mandatory instead of a choice by the customer, you can do this by clicking on the mandatory field of the extra's. This way, if you want an extra such as breakfast to be listed separately and be mandatory on the booking engine, now this can be done. This feature is in your innconnect, booking extra's.  Remember, this is only reflecting on your own booking page on your own website. Extra's will still need to be set up separately on the channels such as booking.com.
12/3/2016 – Holidays are coming up! First, I would like to wish everyone a big "Happy holidays" I hope you all have a wonderful time this year, and keep those New Year Resolutions! 🙂 Also, be sure to prepare for the busy seasons. You may want to add a -1 or -2 availability just in case two groups makes a reservation for your last room on two separate channels.. If you would like us to set that up for you, please write,

[email protected]

and let us know what room type you would like to have this done in. Also, don't forget to include your hotel name so we know who you are 🙂
11/28/2016 There will be a server update tonight between the hours of 1 am and 2 am central time zone, and the pms will be offline for 15-30 minutes, please print out any reservation details you may need during this outage. Please contact us on chat if you have any questions.
11/15/2016 Find out how to manipulate the POS to create your own tab, name it your personal store, or find out how to run tabs on customers by using the POS. This totally customizable POS will give you a new view on how to use it the way you want to use it. Please watch this video for full instructions on customizing it to your satisfaction: https://youtu.be/JoC9oXWYudo
11/15/2016 Waiting list feature has been added. To find out how to utilize this feature, please watch this video: https://youtu.be/h2T7xHeup_0
11/14/2016 Hello everybody! Opportunity Center from Booking.com has been added to your booking engine (innconnect)! Please check this link out for more information:
11/11/2016 Are you ready for the holidays yet??? Avoid overbookings by using this method- watch this video to find out how to send less availability to the channels: https://youtu.be/Q6YF_oBk93g
11/10/2016 Don't have a logo for your receipt? Need to know how to create a logo for your hotel and guest receipt? Watch this video: https://youtu.be/hnyI0-zdTjM
11/6/2016 DAYLIGHT SAVINGS TIME CHANGE: To move back an hour in your system, go to Admin, settings, and at the very top see your  gmt time zone and change it back one hour. For example, if your GMT says -5, change it to -4. Happy daylight savings day 😀
11/7/2016 Happy Election Day for US customers, don't forget to vote. We added a new push feature so reservations made on your booking engine now show up instantly on your pms. Just one more thing to make your life great 🙂 Enjoy!
10/24/2016 We will be featured on tonight's episode on Hotel Impossible as one of the donations made for one of the three hotels listed in tonight's episode Full throttle in Sturgis 10pm (9c) on the Travel Channel. If any hotels are interested in being on Hotel Impossible and having Anthony Melchiorri come to your hotel please write to

[email protected]

, tell us your story and why you think you need help from Anthony and we will submit your hotel. Please watch the show first, so you know what to expect.
10/18/2016 Expedia looks like they have slowed down. Please keep an eye on your Expedia account.
10/18/2018 UPDATE: SYSTEM CHANGE we changed the color dark grey of future reservations to the color voted the most relaxing color:  feng shui's sage green. Please refresh your pms to see the changes. From now on, during stressful times, your eyes can wander to the most relaxing color of sage green and peace and happiness will come to you, provided to you by inngenius's ingenius minds 🙂
10/17/2017 UPDATE: Agoda will be switching over to their new connection and their old connection will be disconnected. For Agoda customers only: make sure that you have switched over to their new account. You can reach Agoda at this number: (866) 656-8207
10/11/2016 UPDATE: A printable closing shift report has been added. A new video with this added feature has been made. Now you can make notes on your closing shift and hand it over to the next shift coming in! Let your other employees know that room 212 has clogged the toilet yet again 🙂 For more information, please see this video: https://youtu.be/kAjGPjB3_Q8
10/10/2016 UPDATE: Housekeeping emails added!! Send your housekeepers their next day's room agenda. Add their email in housekeeper list or watch this video on how to do it: https://youtu.be/GSP7M7ZqF3s
10/3/2016 update: add new report to your permissions and print check in check out list for a future date. Instructional video: https://youtu.be/enX_HeM_jjM
Add your favorite report to the left hand side menu on your pms by going into reports, choosing your favorite report, and clicking on add to main menu
Check the history of each reservation by clicking on the tiny white clock at the top of your reservation card.
Check the history of each user by opening the user and clicking on the tiny white clock at the top right hand side.
Mode of arrivals can be written down in the arrival note and has been replaced with inbound marketing.
Extra fields have been added for more than one credit card number to be added. Click on add  card in reservation card to add more credit card numbers
Add new guest fields have been added to the reservation card so you can enter more than one guest name in the reservation card.
ONE MONTH FREE FOR REFERRAL
Refer us to someone new and receive a free month!* Please see terms and conditions below:
*One month free referral rules terms and conditions:
     Referred hotel must have stayed a period of length to cover the one month of referred hotel. For example, if the hotel's monthly payment is 100 USD a month, and refer a hotel that is 35 USD a month, the free month will be rewarded on the third paid month of referred hotel.
     Hotels that are referred can not fall inside of ownership, relatives, franchises or any other affiliated business.
     Hotel that is referring another hotel can not redeem cash prize or any other form of payment other than one free month.
     There must be written proof that the referral was referred by said hotel.
     Any discrepancies found in the rules listed here will result in loss of free month.
     Referring hotel owner must be presently a current customer at the time of referring the referred hotel.
     Referral prize must be agreed between hotels that all rules are in fact true and correct.
     Free month can not be applied to a different hotel that will sign up in the future but only to the existing hotel that has referred a hotel at that time for that hotel only.
     If rules listed have reasonable doubt and proof of being broken, the free month can be retracted at any time by an Inngenius employee.
  A hotel can not claim a prize for referring an existing hotel of more than 1 month.
  A hotel must give written notice within 30 days of referred hotel's sign up that they have referred and referred hotel must give written notice within 30 days of sign up that they were referred to [email protected] .
Hotel can not receive a free month with any other additional leeway's such as over-extended free trials, extensions for late payments, or any other free time granted within six months. Free month can be applied after six months of any type of extensions granted.
Referring hotel must have at least 3 consecutive paid months to qualify for a free month. If a hotel is referred during the first three months, the free month will be applied to the  referring hotel after the third paid month, allowing their fourth month to be free as long as their fourth month does not exceed referred hotel's monthly payments.
– We have a FaceBook page https://www.facebook.com/inngeniuspms/ – please drop by and check out the latest updates.
– You are now allowed to use your hotel's email address when sending invoice emails. To do this, Click on Admin tab > Settings > "Smtp settings" button and enter your smtp details.
– You can now add Travel Agencies to your Booking Engine, to find out how please click here
– You can now subscribe to InnGenius from your trial account by pressing on the Admin tab > Settings > "Extend Your InnGenius Subscription" (located on the lower right) follow the onscreen instructions to subscribe easily.
– We have added two new statuses to Housekeeping, these are DND (do not disturb) and Stay Over.
– For those who have multiple InnGenius accounts (properties), you can now link them to one main account. To find out how, please click here
– We now have direct connections with FlipKey, Wimdu, 9flats, HolidayLettings and VRBO. Login to your InnConnect account and press Channels to find out more.
– You can now arrange the order of your images on your Booking Engine. To find out how, please click here
– You can now change the background image of your Booking Engine. To find out how, please click here
– There is a new setting in InnGenius where you can set Service Periods – this means that your housekeeping staff will need to change the Linens, clean the bathroom etc every so often. To find out more please click here
– You can now Import your existing reservations into InnGenius, to find out how, please click on Admin tab and then press Import Reservations for instructions.
– Swipe System is available, to find out more please click here
– We have updated the Revenue by Source Report, it now shows the Payment type (cash, Paypal, CC etc) Find it under Reports in Front Desk.
– InnGenius has a pricing strategy called Yield Management that will maximize revenue/profits by setting rules in the Rates you setup, to find out more please click here
– We now have a direct connection with Airbnb, to find out more please click here
– We have fully integrated with CMS Online, to find out more please click here